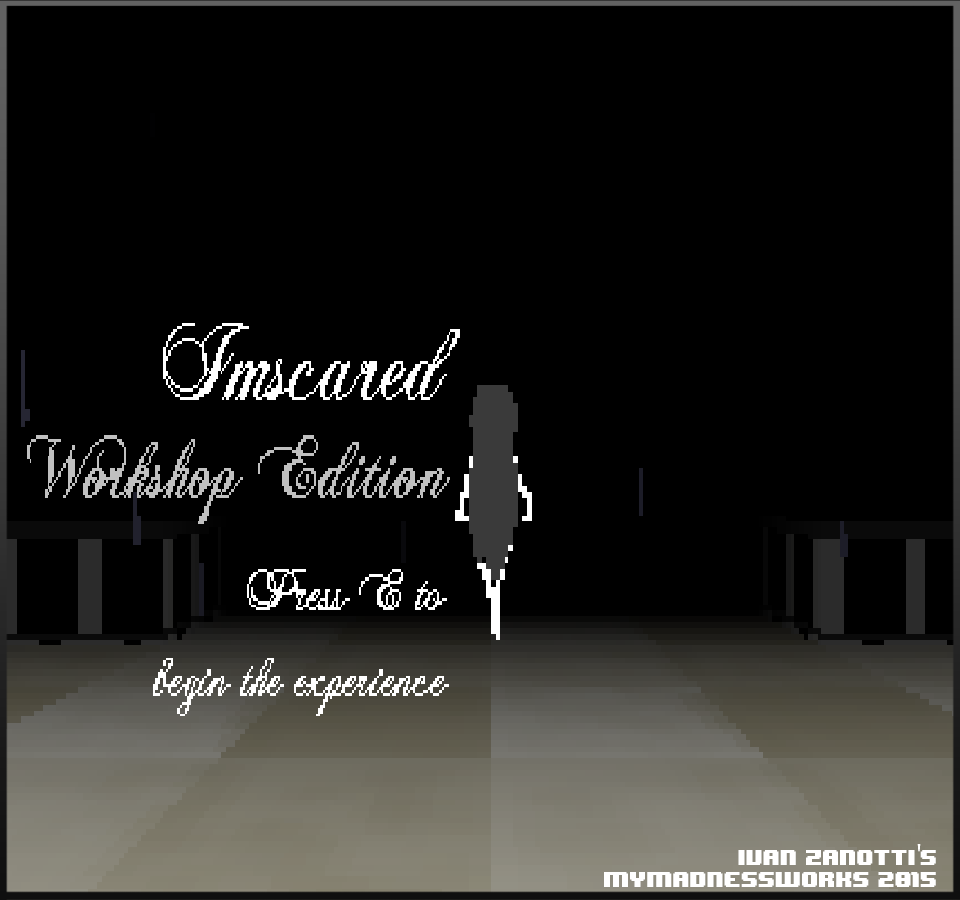 Imscared - Workshop Edition
A downloadable game for Windows
ENGLISH DESCRIPTION (italian description below)
Imscared - A Pixelated Nightmare is a metahorror game I made in 2012: The game had a lot of success, becoming a standard for the pixelated horror experiences.

Imscared - Workshop Edition is, instead, a playable area that comes straight out the Steam version of Imscared.
Imscared protagonizes the player, putting him in a surreal first-person experience. Find keys, open doors and search for the exit of this short nightmare.
The game uses raw 3D graphics to enhance the player's imagination and general atmosphere.
Explore, understand, be scared and first of all,
think outside the box.

You can buy the game for 1$ below or you can play it for free following these download instructions!
To play this game for free, just follow these steps:
Install Steam on your PC
Download GameMaker: Studio (free) from Steam
Subscribe to Imscared Workshop page
Start GameMaker: Studio and select the PLAY button
Download Imscared - WORKSHOP EDITION
Play!
Help Imscared being Greenlit on Steam Greenlight!
You can also try the game on GameJolt (2012 version).
DESCRIZIONE ITALIANA

Imscared - A Pixelated Nightmare è un videogioco metahorror da me sviluppato nel 2012. Il gioco ha avuto un grande successo, divenendo uno standard per le esperienze horror low-quality.
Imscared - WORKSHOP EDITION è, invece, una nuova area giocabile presa direttamente dalla futura versione Steam di Imscared.

Imscared fa del giocatore il protagonista, ponendolo in una surreale esperienza in prima persona. Trova chiavi, apri porte e cerca l'uscita da questo breve incubo.
Il gioco si avvale di una grezza grafica 3D atta a sviluppare l'immaginazione del giocatore ed a costruire una splendida inquietante atmosfera.
Esplora, comprendi, temi e sopratutto
pensa fuori dagli schemi.

Puoi acquistare il gioco al prezzo di 1$ in fondo alla pagina oppure puoi giocarlo gratis seguendo le seguenti istruzioni di Download!
Per giocare gratuitamente questo titolo, segui questi passi:
Installa Steam sul tuo PC
Scarica GameMaker: Studio (gratis) da Steam
Iscriviti alla pagina Workshop
Apri GameMaker: Studio e seleziona il bottone PLAY
Scarica da qui Imscared - WORKSHOP EDITION
Gioca!
Aiuta Imscared a passare il Greenlight su Steam!
Potete anche trovare Imscared (versione 2012) in italiano e gratuitamente su GameJolt.

Download
This game is currently unavailable